Created by: Guðrún Eydís Jónsdóttir
In this article, you will read about adding and removing users from exMon Data Management. To do this:
Open exMon Data Management
Navigate to the user configuration page in exMon Data Management.

This can be found via the Configure gear button in the bottom left corner

Then select User Configuration
Click Add User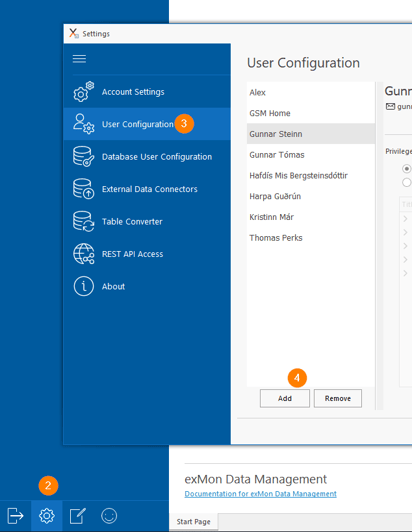 Add User
In this section, you will learn how to add a new user in exMon Data Management.

When you add a user, add their email address and click Next.
Then you enter their full name and click OK.
Select the new user from the list
Select the appropriate privileges (see User Configuration for more details on how privileges work)
Finally, click Save


The new user will receive an email and can start using exMon DM.
Remove User
To remove a user, select them from the list
Click Remove
Click Save


Guðrún is the author of this solution article.