Release notes for exMon 4.2
Created by: Kristinn Magnusson
exMon 4.2 is here! The primary focus of this release has been to make the portal more convenient and easier to use. As always we'd like to take a second to draw attention to a few of our recent blog posts on exMon:
Here are some of the new and improved features of exMon 4.2:
Anonymous access to reports Currently users need to be logged in to view custom reports on the exMon portal. With the release of 4.2, reports can be configured to be viewed by anonymous users. This change should give reports more flexibility, especially if reports are being integrated into other solutions, such as SharePoint. The property 'Report visible to' is set to Anonymous

Process map, refresh and ETA
With the release of exMon 4.2 we've made some changes to the process map, which should make it more user-friendly. The estimated time remaining of processes should be a lot more accurate as now we use past executions with the same parameters as reference. We also made a few improvements on task hover dialogs and process execution dialog.
Module enabled on the system
In most cases, systems in exMon only live in Exception Management or Process Management and users on the portal need to jump between the modules when moving between systems. Now you can disable modules that should not be visible on the portal and when selecting the system on the portal, it goes into the correct module. This greatly improves the usability on the portal. Disabling both modules will cause the system to be disabled and not visible on the portal.
Task parameters and process
Task parameters have now been a part of exMon for a while and have been a welcome addition to the exMon features. With exMon 4.2 we improve on them by allowing users to update parameters when running Subprocesses or Execution jobs.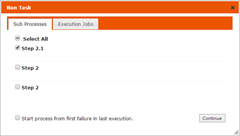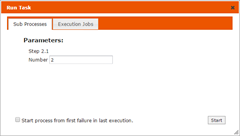 Step 2.1 contains a task that relies on task parameters and therefore the start button changes to a Continue button.
SSIS 2014 Support
exMon 4.2 brings support for orchestrating exMon processes with Microsoft SQL Server 2014 Integration Services. In most cases, exMons' processes are enough but this SSIS integration can be helpful in complex processes.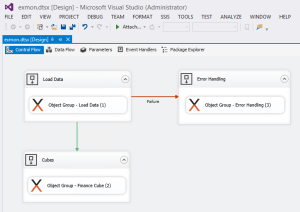 Kristinn is the author of this solution article.